What is a business card website?
A business card website is a simple website that briefly and clearly presents your services or products.
It is a simple website that is used to obtain basic information about your company.
People on the Internet are looking for quick contact and the business card website will help you gain potential clients on the Internet.
Business card website is good for:
The business card website is suitable for  companies that present their business and services on the Internet.
In today's modern online world, it is very necessary for potential clients to find a contact for you on your website.
If you do not need complex functions on the website, but you want to present your business in the online world in the form of "online business cards", I will definitely recommend you to create a business card website according to my easy video-tutorial.
A business card website is for everyone – whether you are looking to create a website for a hairdresser, doctor, artist, photographer, beauty salon, restaurant, small construction company, translator, florist, rental, or a website for a chimney sweep – a business card website is a very good solution for online presentation.
How can i create website for free?
You don't need programming knowledge to create a website these days.
To create a business card website, I will recommend a BEST website builder

– (click on the Webnode logo and start creating a business card website)
Webnode is a online tool that allows you to create a modern website without technical knowledge.
Webnode offers a choice of more than 100 responsive templates, free illustrations, the ability to register your own domain, highly secured hosting, the ability to edit the web in the style of Drag and Drop or click and rewrite.
In my opinion Webnode customer support is a great advantage – everyone is very nice to support you, whether via email or phone.
and they have always helped me very well … and they will help you too!
Video tutorial: How to create a business card (1-page website) in Webnode? (with scroll effect from menu on homepage)
There are 3 easy steps to creating a website.
Just register on Webnode.com, choose a template and within 1 minute you will be done!
Creating website with WEBNODE si so simple – i love so much the SIMLICITY of this website builder.

Viliam, Wpromotions.eu
If it's still too complicated for you, then read my guide How to create a website easily and for free (Webnode guide) and you will definitely be able to create a website.
In this tutorial, I want to focus on creating a 1-page website in Webnode so that the items in the Menu scroll to a specific position on the website on homepage.
This is because Webnode does not have a 1-page template, and Menu items would be scrolled within the home page when clicked.
Thanks to the external codes that I have prepared for you, we will be able to set it up together 🙂
Let's start together to create a 1-page "scrolling" website at Webnode.
Subscribe To My Newsletter to get codes (for creating the anchor and redirect from the menu)
YOU ARE DONE
I hope you succeeded and everything went smoothly.
Write me in the comments if you managed to create your first business card website! 🙂
1. What is Webnode?
Webnode is an online tool for creating and managing websites or e-shops. The system has features for creating web presentations, without the need for installation or advanced configuration. By dragging and dropping your mouse, you can place many interactive elements on the web, such as forms, videos, images, text, blog, articles and more.
2. Is Webnode really for free?
Yes – Webnode can be used completely free with 100 MB of available space and subdomain like "mydomain.webnode.com".
Using your own domain in the form of "mydomain.com" is charged with a funny price starting at $ 42,95 / year.
3. Does Webnode provide FTP access?
No – Webnode can only be used via an online interface called "CMS" (Webnode editor)
Webnode does NOT provide FTP access to hosting, or MySQL database.
4. I bought a domain with Webnode, and I want to change the DNS records. It is possible?
Webnode does not provide editing of DNS records to users.
If you have registered a domain with Webnode, you must request a change of DNS on the Webnode customer support with an authorized request send through the contact form in the Menu or by sending an email from the owner's email.
In case you need to change DNS records for a domain at Webnode, or you want to add TXT records or something else, always send the request as a project owner.
Project owner is a person who created a website.
5. I want to add a Facebook link to my website, but I haven't found a feature for it. What should I do?
If you need to add a Facebook "window" or an Instagram or a combination to your Webnode website, please read these my tutorials:
6. Does Webnode have customer support over the phone? I didn't find their phone number....
Yes – Webnode has professional customer support by phone for all Premium users.
If you have purchased Premium Plan from Webnode, you can contact them by phone. Webnode Customer Support phone number can be found in the email which you received after you ordered Premium Plan.
Phone customer support is for Premium users only.
7. Can I connect my own domain to a project in Webnode using DNS records?
Yes – with an active Premium Plan (Limited, Mini, Standard, or Profi), you can attach your own domain to a website in Webnode using DNS records. Please follow these instructions: 
8. I created a website in Webnode, but I don't like the template. Is it possible to change the template automatically?
No – template cannot be automatically changed after creating website in Webnode 2.0.
If you want to change the template for your website, you will need to create a new project. You can then choose a template that will suit you best. If you have purchased Premium Plan, you can contact Webnode Support with an request to move a Premium Plan to a different project.
Before creating a project, I suggest you preview all templates using the "Template Preview" button.
9. I bought a Webnode Premium Plan and I want to return the money. It is possible?
Yes – within 14 days of purchasing the first Premium Plan.
Send a refund request as a project owner from your login email to Webnode Support.
10. Is it possible to create an adult content page (erotic (porn) sites) on Webnode?
No – you cannot.
Its againts Webnode terms and conditions.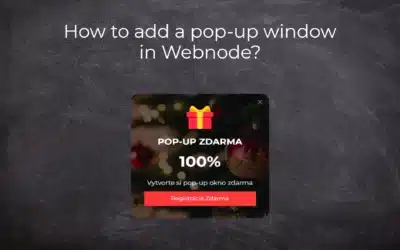 Notification pop-up in Webnode Notification Pop-up window - free VS premium Notification pop-up window - choose the right type Notification Pop-up window and Webnode e-shop/web Pop-up window - also works on mobile/tablet TUTORIAL: How to easily add a pop-up in...