You do not see the (preview) image when sharing a website in Facebook?
If you share your website link on Facebook, it may happen that no picture appears or an image you do not want appears.
In the following steps, you'll learn how to change the image for the shared link.
An example of a malfunctioning image problem:
Done: When you now share your website, an image will be OK 🙂
Warning: When you upload an image to a storage, make sure the image has no spaces in the name. Remove the spaces and replace it with a dash.

 

If you upload a picture with a space in the title, for example, under the name "My Logo" Facebook will not take your picture and it will not work.

 

So when you upload a picture, rename it, for example. to "my-logo".
Do you also need to change the text in the link thumbnail?
For change of URL of website you can use this code
<

meta

property

=

"og:url"

content

=

"https://www.imageurl.com"

/

>
For changing the "Title" use this code:
<

meta

property

=

"og:title"

content

=

"Title"

/

>
For changing of Description use this code:
<

meta

property

=

"og:description"

content

=

"Description"

/

>
TIP: Put online chat on the web for faster communication with visitors to your site. I recommend a service that is free – read more in tutorial for Smartsupp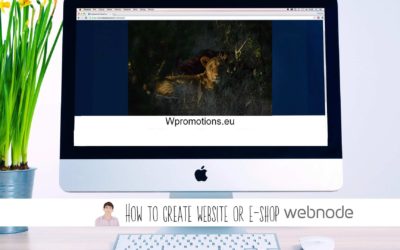 Have you ever wanted to create your own website from scratch? Do you want to create a website or e-shop and make it visible on the Internet? Get started right now and learn how to easily create your first custom website.Creating a website with Webnode is so simple...
Sharing is caring 🙂 Please share this awesome tutorial